---
The importance of a "Wedding Agenda"
From music selections for cocktails and hors d'oeuvres, to the duration of speeches during dinner, all the way until the last dance of the evening, your DJ should know every detail you have planned for your wedding. Providing an agenda to your DJ allows them to seamlessly set the right tone for each and every special moment surrounding your big day. It also helps provide a sense of "the big picture" leaving plenty of room to consider special presentations, performances, and special music requests. An agenda should be provided to your entire wedding team to ensure the evening flows smoothly from first kiss to last dance.
– Mark Soer, The Music Company Inc.
---
In-House vs. Hired DJs
A lot of  banquet halls have in-house or exclusive DJ's at their facilities. In many cases, you are not obligated to use the in-house provider. Sometimes there is an additional fee if you use an outside supplier or if you use the in-house sound and lighting system. The majority of in-house music contracts have to provide a percentage kickback to the venue which in turn can inflate the price higher than what an outside DJ company might charge.
Naturally, there are pros and cons to using the in-house provider. When using an in-house DJ, you may not find out who your DJ is or what their experience is until the night of your wedding which can be scary. It's important to do your research and ask these questions even before you confirm your venue. You don't want to find yourself  stuck at a venue that forces you to use their DJ and pricey audio-visual services only to find out that you simply don't "click" with your DJ. Always choose something that you feel comfortable with and fits into your vision for your special day.
– Terry Holdershaw, Scotia Entertainment Services
---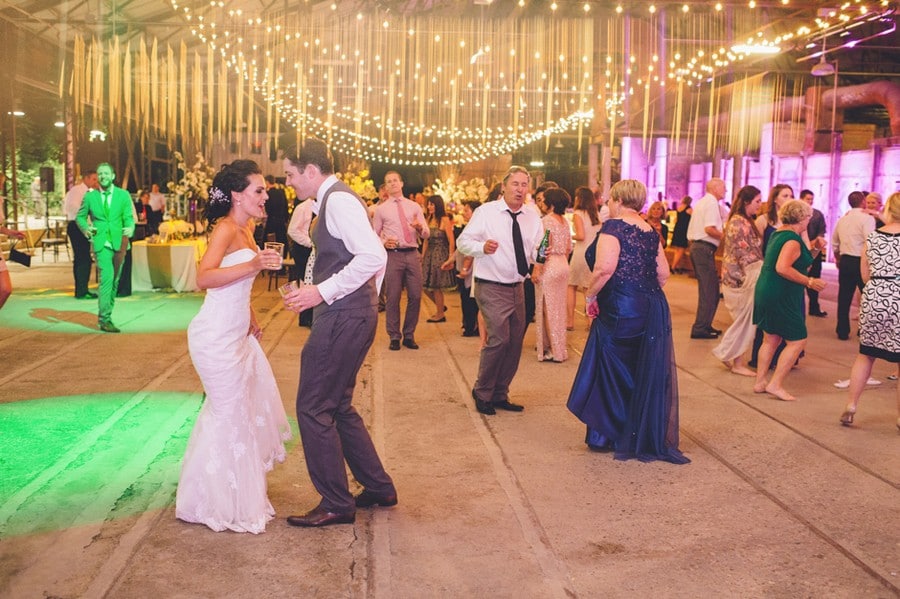 PHOTOGRAPHY BY TORONTO WEDDING STUDIOS
Don't hire your uncle if you want a professional service
A wedding is a celebration. You have a wonderful reception booked at a beautiful venue, you've hired professionals to look after your photography, videography, floral arrangements and décor, but you have your uncle DJ'ing your wedding?! This is a common mistake that many couples make when planning their wedding. The difference between a professional DJ service and hiring a friend or relative who does it in their spare time is staggering. Many people just assume that the DJ just shows up, plugs in his laptop and presses play. Like any professional, it takes years to hone your craft: coordinating set up, ability to quickly respond to the mood of the room, factoring accoustics, emceeing, wedding politics, the list goes on. Ask any wedding professional: it's not just about charsima; keeping an entire room of 200+ people happy for long periods of time is an art form.

– Remo, Legends Entertainment
---
Big gear and lighting is not necessary for a successful wedding reception
Subwoofers and big light shows will not be the focal point of conversation at your brunch the day after your wedding. More likely, the talk will be of how much fun they had dancing to their favourite songs and celebrating with friends. If you choose to include extras with your DJ, that is great; but don't hire a cheap DJ just because they've offered to include a few lights for free. Great DJs are successful at creating the perfect atmosphere and playing the right music at the right time, without stealing the spotlight from the bride and groom.
– Rod McMahon, Maximum Music DJ Service
---
DJs have control over the success of your event
It's important to realize how much control the DJ has over the success of your event. A typical wedding will run approximately 8 hours. For arguments sake, let's say dancing is 4 hours. This means the DJ is in control of your event for 4 hours – that's 50% of your event! No matter how beautiful your day may be, or how great the food was, if your DJ doesn't measure up, it can completely change your guests opinion of the day. With that in mind, from a budgeting perspective, you need to be looking at investing 5 to 10% of the overall budget into the DJ.  I've seen couples spend more on a dance-floor decal than on a great DJ – which only makes sense if you want your guests to be looking at an empty dance-floor all night.
– Michael Coombs, Michael Coombs Entertainment